forScore 11
Available Now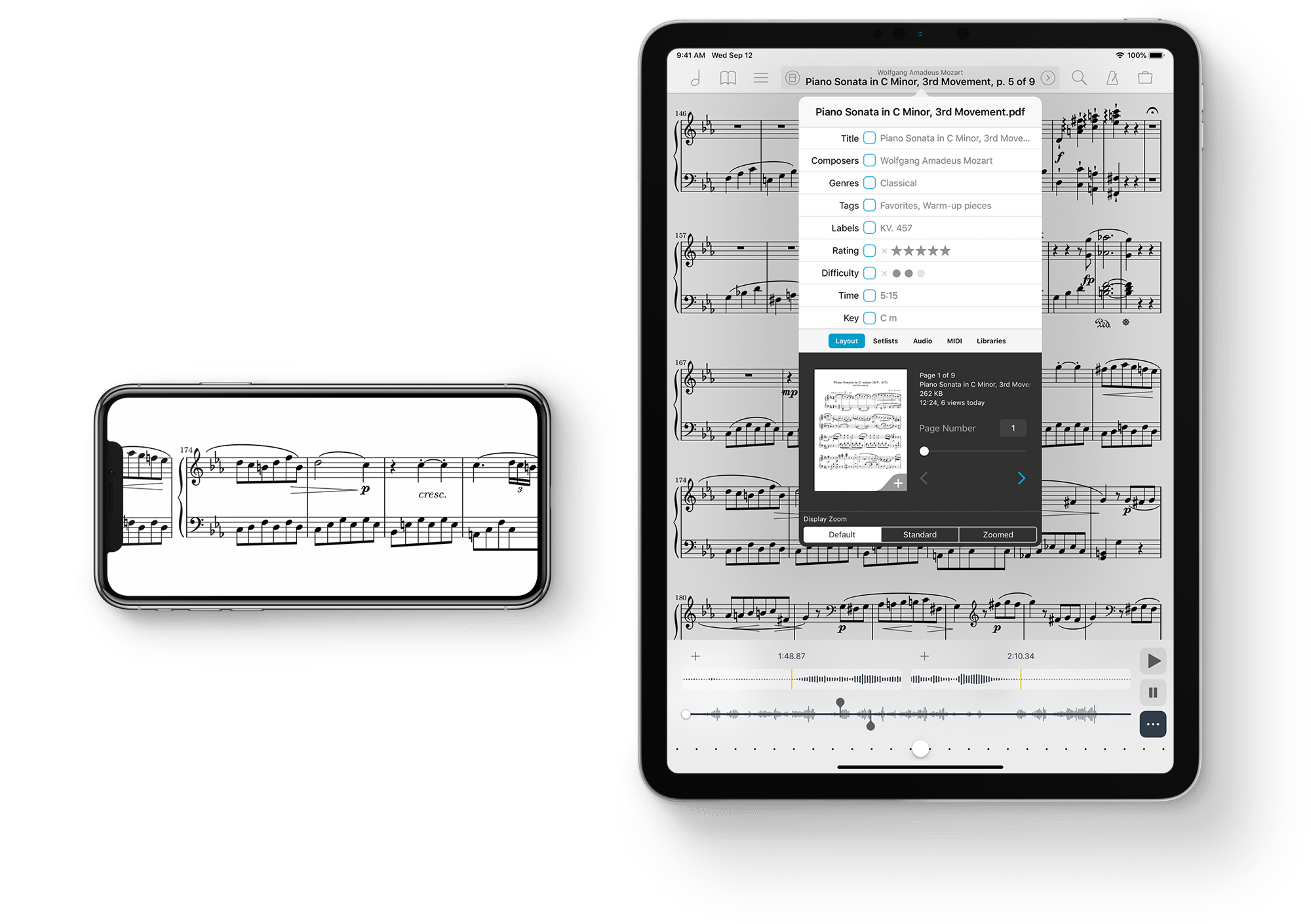 Together at last.
Almost a decade ago we set out to create the ultimate sheet music reader for iPad. A few years later, we engineered Reflow to allow us to bring that experience to the small screen. Now it's time to let them go, to close the book on forScore 10 and forScore mini 3.
Say hello to the new forScore, the ultimate sheet music reader for iOS.
Universal App
One purchase gives you access to forScore on your iPad, iPhone, and iPod Touch. No separate purchases, no hassle.
Design
Optimized exclusively for iOS devices with Retina displays, our biggest redesign since iOS 7 doesn't just look good, it improves legibility and usability.
Display Zoom
Exclusively for the new 11-inch iPad Pro, Display Zoom lets your music fill more of the screen's height in portrait orientation. Double tap the page with two fingers to toggle Display Zoom at any time, and even set your preference per score so you can get the very best view of each piece of music in your library.
Looping
Precision is key to providing powerful functions in an easy to use, touch-ready interface. forScore 11's new looping controls give you unprecedented fine-grained control over where your music starts and stops.
Replay
After you've recorded your page turns with Replay, you can now go back and adjust their timing or remove accidental turns without resetting everything and starting over from scratch.
Fine Tuning
Adjust the tuning of the piano keyboard, MIDI synthesizer, and pitch pipe—even when using the Clarinet or Piano sound options.
Score Layers
Create one or more score layers to separate your annotations and show or hide a specific set for all pages of your score at once.
Variable Width
Faithfully representing your drawings with natural variations in width is no easy task. We spent weeks engineering advanced new curve drawing algorithms exclusively for Apple Pencil that are steady when they need to be and nuanced where it counts.
Repeats
The Shapes tool has a new Repeat item, but it's unlike any of the others: place this shape and it automatically detects and aligns itself with one or two staves. It doesn't have to be magic to be magical.
Content
Our in-app purchase storefront has been completely redesigned and refocused squarely on first-party content, articles, resources, and our favorite accessories.
Files
Importing content from the Files app gets even easier with an import button right in the main menu. Now all of your music is just a few taps away.
Versions
The score menu's new clone function can create as many copies of your scores as you need without taking up any additional storage space. It's so easy to use that it's replacing the older Versions feature.
Gestures
Two new gestures, a two- or three-finger tap and hold, give you even more ways of instantly accessing your favorite tools and actions.
Go Back
When you navigate to a new score or use the seek bar to jump to a new page, the new Go Back action gets you right back where you just were. Activate it with a gesture, page turner, or device shortcut.
Now Playing
Tap a score in a list and the other items in that list are queued up automatically. The new Now Playing action lets you view and navigate through that queue at any time with a quick gesture or shortcut.
forScore
Pro
Buy forScore once and get free updates for life. That's the promise we made in 2010, and it's still true today. Some musicians want more, though, whether it's an advanced feature request or detailed one-on-one technical support. Others just want to support us and help make sure we're ready for each new iOS version and hardware release on day one.
For those people, we're excited to announce forScore Pro: an optional, annual subscription that gives you prioritized support whenever possible, perks like extra stamps and app icons, and exclusive or early access to the latest and most advanced features.
If you're perfectly happy with forScore just the way it is, there's no pressure to become a subscriber. No existing features require any additional payment or subscription, so you can use them forever. And if your needs grow, we'll be ready to serve them.
Get Help
We're always happy to point customers in the right direction, but unlimited support isn't sustainable. Subscribing lets us devote more time to you.
Do More
Take advantage of powerful new features like pop-up menus. Get access to exclusive content like extra stamps and alternative app icons.
Make a Difference
If you subscribe for longer than a year, Apple takes just half of their usual cut and even more of your money goes straight towards improving forScore.

Pop-up Menus
Pop-up menus give you instant access to common actions or content from forScore's six primary title bar buttons. With one continuous gesture, touch an icon and drag downward to see the menu, hover your finger over the item you want, and let go to activate it.
Access new navigation actions from the main menu, add a new bookmark, and edit the current setlist or to jump to the previous or next item. The search icon lists your most recently played items so you can get back to any of them instantly. Activate the metronome or pitch pipe and get to your favorite or most recently used tools.

Available Now.
forScore 11 and all of these amazing upgrades are available now, absolutely free for all existing users. Get it today on the App Store, and be sure to check out our news page or use our RSS feed to follow our latest news and announcements.