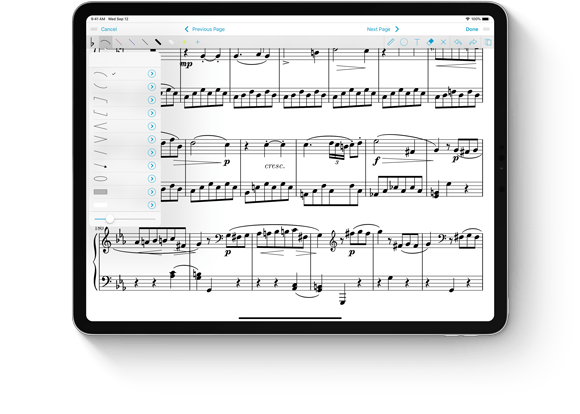 Today we're thrilled to announce the immediate release of our latest major update to forScore, version 10.5. It's a big update in more ways than one: we've optimized forScore for the latest iPad Pros with ultra slim bezels, Face ID, and no home button. The expansive screens on these new devices are incredible and we know the forScore experience will grow right along with it.
That's just the tip of the iceberg, though, because forScore 10.5 also supports the new Apple Pencil and its double tap gesture. While annotating, use this gesture to switch between the current tool and the eraser, between the current and last used tool, or to show the current tool's detail view. When you're done annotating, assign the gesture to one of forScore's other functions or tools for instant access from anywhere.
Whether you're upgrading to a new iPad on day one or not, there's a lot more for everyone in this update. New shapes and shape settings, a streamlined "prevent finger drawing" option, the ability to move multiple pages at once in the Rearrange panel, filter improvements, and the ability to recover recently deleted scores and setlists make this the most incredible version of forScore yet. Learn more about all of these changes and more here.
And, just as always, it's completely free for all existing users. Check out forScore 10.5 and forScore mini 3.5 today on the App Store, and thanks once more to all of our amazing beta testers who helped us get this release ready for prime time.
Available now for iPad
Available now for iPhone and iPod Touch